You have to zoom in, but…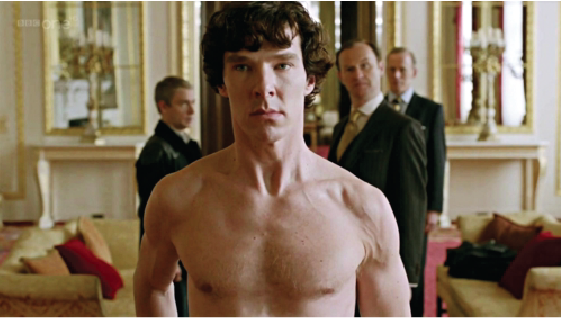 Now look closely here, because you might miss it:
There! See it? Okay, wait, one more:
Ladies and gentlemen, The Case of the Secret Sexy Nipple Conspiracy
Sherlock Loves Bees
Though there is generally more subtlety to this meme than others, it is arguably one of the "oldest" Sherlock memes, as it is based on the Sir Arthur Conan Doyle canon and long-time Sherlock Holmes fans have been making reference to it for decades. The origin of the meme is in the Sherlock Holmes story "His Last Bow," in which Doyle reveals that Sherlock, in his retirement years, moved to Sussex and took up beekeeping with the same fervor that he had once had for detective work. When asked about his hobby by Dr. Watson, Mr. Holmes had this to say:
"Exactly, Watson. Here is the fruit of my leisured ease, the magnum opus of my latter years." He picked up the volume from the table and read out the whole title, "'Practical Handbook of Bee Culture, with some Observations upon the Segregation of the Queen.' Alone I did it. Behold the fruit of pensive nights and laborious days, when I watched the little working gangs as once I watched the criminal world of London."
This propensity for apiology has never been mentioned in the BBC series, but the fandom seems to have tracked it down anyway. The most popular application of the bee meme to the BBC series is to color John's stripey jumper yellow and make some exclamation about him looking like a bee and therefore incurring Sherlock's interest (sometimes sexually). Examples to follow.
Some back story: CBS is doing their own Sherlock. And yes, this is probably what it will actually look like.

I would cry if I wasn't laughing so damn hard

Every time I see this picture, I have to reblog and go

YEEEEEEEEEEEEEEEEEEEAAAAAAAAAAAAAAAAAAAAAAAAAAAAAAAAAAAAAAH!!!!!

 I JUST CHOKED
Don't worry, I'm American. Sorry about this…
Submission regarding Anderson's dinosaur fetish. Click the link, it is glorious.
Regarding the Anderson/dinosaur thing, this is the true origin: http://rachelsfic.livejournal.com/18758.html
It was popularised through the prompt you mentioned, and also through Holmesian.net, particularly an entry in the Halloween story contest, and is the brainchild of Gracious Anne. Although, she'll be ridiculously embarassed if she knew I told you.
Misleading Moriarty
Misleading Moriarty is a Sherlock-specific derivative of this scary guy meme, which has long been popular on the rest of the non-Sherlock internets:
Since everything is, objectively, better with judicious application of Moriarty, the Sherlock fandom took this idea and did this with it:
The idea was inspired by Moriarty's weirdly protean facial expressions, which more often than not don't correspond with his lines in any way. The only explanation for this titillating tendency is that Moriarty is equal parts awesome, genius, and batshit crazy. As is consistent with the dialogue in the show, the majority of Misleading Moriarty memes include a variation on the "I will burn you. I will burn the heart out of you." line from The Great Game, although any misleading phrase is fair game, just as with the original scary dude meme. Examples to follow.
double requested >8P

robinhood221b: Sherlock and John couch cuddling fluff? :D <3

liferockingitout: Can you draw Sherlock and John cuddling on the couch and watching crap telly? I'd love you forever?
Stripey mugs in action in fanart.
This is a fanfiction about the mugs. I have not yet dared to read it, as I suspect it is some form of an RPF, but here it is. It exists.
It's Martin/Benedict except it's about the mugs. From the point of view of….the mugs.

My mind has been blown.
The Stripey Mugs
The stripey mugs nearly broke Tumblr as a result of the sheer volume of crack that they produced. During the filming of series two, this photo was taken on the set (http://vicivefallen.tumblr.com/tagged/on+set) and at some point ended up on Mark Gatiss's Twitter:
Showing Benedict Cumberbatch and Martin Freeman's matching mugs full of tea (and revealing that Martin Freeman apparently takes milk in his). With the hiatus getting to them rather pitifully, the fandom spun this photo into its own universe of mug-porn, mug-fanart, mug-replicas, and mug jokes. There is literally fanfiction written about these mugs. It is beyond reason. It is very popular to depict Sherlock and John with these mugs, even though the mugs have never actually been used by the characters. It is unclear whether Martin and Benedict actually picked out matching mugs or if the crew provided them for use on set, but the latter seems more likely.
Examples of mug-obsession to follow.
How apropos.